In March of 2020, the global supply chain was brought to its knees by COVID-19. When we talk about the supply chains, we're talking about all the links between resources, processes and businesses that are part of the manufacturing, marketing and distribution of products from start to finish. As we saw during the pandemic, if any link in the chain is broken, then the whole system falls like a house of cards.
As organizations have been forced to reevaluate their supply chains for costs, vulnerabilities and inefficiencies, AI has emerged as a potential game changer for the supply chain and logistics industry. According to a 2019 report from McKinsey & Company, businesses can expect to gain between $1.3 trillion and $2 trillion a year in economic value by using AI in their supply chains. With AI, businesses can more accurately predict sales and demand as well as improve and optimize their logistics networks, forecasting and spend analytics.
In their recent report on the state of AI in 2022, McKinsey released results from their Global Survey on AI. These results showed that respondents reported the highest cost benefits from AI in the supply chain management category. Of all the respondents who had adopted AI, 52% said that they saw their costs decrease. Of that percentage, 41% said that their costs had decreased by less than 10%, 7% said their costs had decreased by 10% to 19%, and 4% said their costs had decreased by over 20%.
At the same time, 59% of respondents saw that their revenue increased in the supply chain category after the adoption of AI with 28% reporting a revenue increase of less than 5%, 17% reporting an increase of 6% to 10%, and 14% reporting a revenue increase of greater than 10%.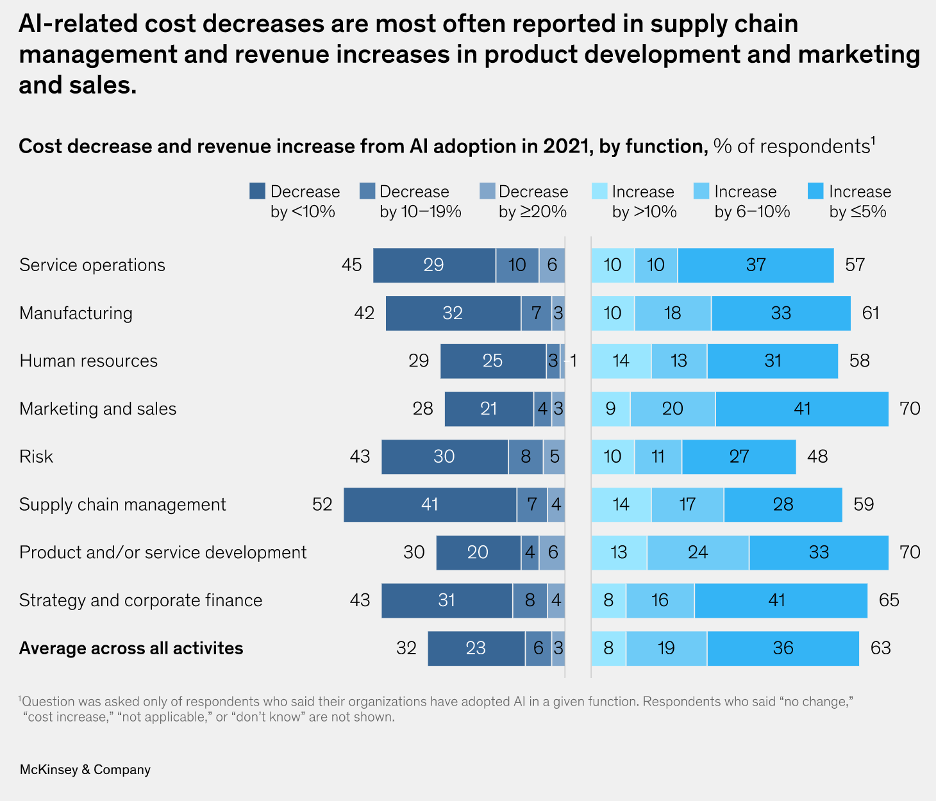 AI achieves reductions in costs and appreciations in revenue by making supply chains smarter and more efficient. AI systems are able to analyze big data sets in real time, allowing them to make better decisions and predictions about supply chain disrupters like weather-related events and labor shortages as well as geographical and logistical barriers. AI systems can also identify and analyze consumer behavior and buying trends so that the right amount of inventory is being shipped to the right places at the right time, resulting in smarter, leaner and more transparent systems with fewer bottlenecks.
If you need help with supply chain visibility, mapping, digitalization or creating new systems that utilize AI, contact us. We partner with senior executives to solve complex issues across all industries and business functions.