Artificial Intelligence (AI) is impacting the ways in which many industries do business, and retail is no exception. AI has the potential to revolutionize the retail industry by increasing profits, improving marketing and advertising ROI, increasing sustainability, improving customer service and experience, streamlining inventory management and aiding in loss prevention. It's predicted that AI services in the retail sector could increase from $4.84 billion in 2021 to $31.18 billion by 2028.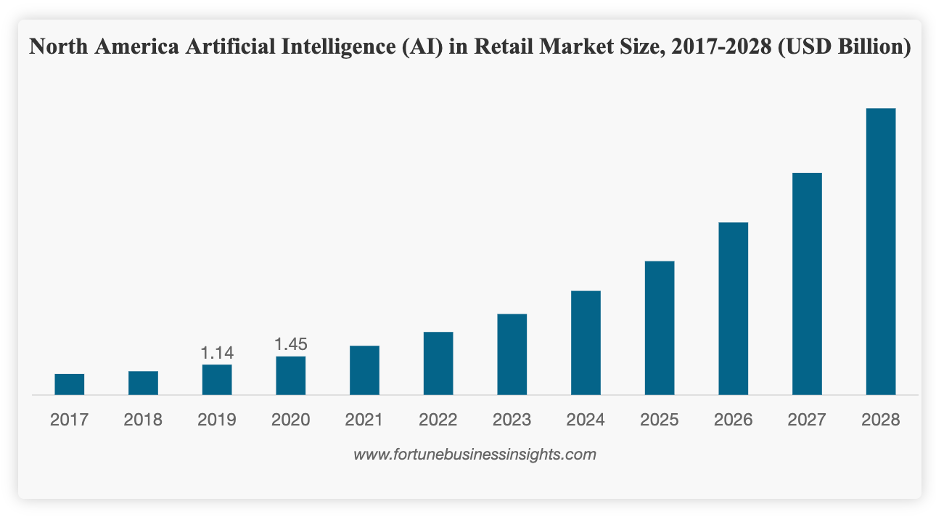 Image from Fortune Business Insights.
Companies like Intel are currently offering platforms for AI that specifically address the challenges that retailers face in a post-pandemic world. These platforms can include intelligent display ads to increase engagement, smart shelves to better track inventory, cross-selling and upselling opportunities, smart self-checkout systems and touchless kiosks, more accurate demand forecasting, better product placement and so much more.
Consumers are increasingly searching and expecting personalized interaction with brands. According to Twilio's 2022 State of Personalization report, 62% of consumers surveyed reported that brands would lose their loyalty if they delivered a non-personalized experience. That number was up from 45% in 2021. AI technology's ability to collect and analyze massive amounts of consumer behavior data enables retailers to put the right products in front of the right consumers, giving them the personalized experiences that they're demanding. Automated assistants or chatbots can also make intelligent recommendations and offer real-time support during the customer journey.
According to a report, published in January 2022, the revenue generated by AI in the global retail market in 2021 was estimated to be $1.714 billion. From there, it's expected to experience a CAGR (compound annual growth rate) of 40.5% from 2021 to 2030, which will put the revenue generated from AI in retail close to 36.463 billion globally. These numbers clearly illuminate what's to gain for retailers who adopt AI and what's at risk if they don't.
The digital transformation of retail has been ongoing since the 1990s, but the rapid advances in AI coupled with the unprecedented disruption from the global coronavirus pandemic has hastened the evolution of the retail experience. This is true for online retailers as well as brick and mortar stores. The enhanced shopping experiences that AI allows consumers will soon be the dividing line by which retailers either propel themselves into the future or anchor themselves in the past.
If you're looking to implement a seamless AI transformation in your organization, contact us. We partner with senior executives in all industries to solve complex problems, maximize efficiency, and increase profit and productivity across all business functions.