In our last blog post, we discussed the phenomenon now known as, The Great Resignation.
As a quick refresher, The Great Resignation describes the mass exodus of employees from the labor market that has occurred in response to the global coronavirus pandemic. In April of 2021, the U.S. began to see a record number of workers quitting their jobs, and the trend has continued since then.
Anthony Klotz, an associate professor of management at Texas A&M University, first coined the phrase, The Great Resignation, in May of 2021. Later, in a Washington Post Live webcast, Klotz described four trends that he believes are responsible for causing most workers to quit:
A Backlog of Resignations
Worker Burnout
Pandemic Epiphanies
The Desire to Continue Working Remotely
According to the U.S. Bureau of Labor Statistics, almost 20 million people quit their jobs in 2021 during the months of April through August. In August alone, 4.27 million employees resigned, and they're not keeping their motivations for quitting a secret. In fact, these workers are giving employers a gift. It's the gift of feedback, and if companies are willing to listen, they'll find a very clear path forward for a productive post-pandemic workforce.
The C-Suite Disconnect
When it comes to job satisfaction, compensation and the desire to go back into the office, the views of corporate executives and the views of corporate employees are very, very different. Not only is there a clear disconnect between the experiences and attitudes of executives in an organization and their non-executive subordinates, but there is also a significant lack of communication.
According to a Future Forum Pulse survey, 66% of executives polled say that they are designing post-pandemic policies for their workforce with little to no input from employees. In the same survey, 59% of those executives were "highly confident" that the policies they were creating would match employee expectations.
It has been said, "People don't quit jobs. They quit bosses." Overwhelmingly, we're hearing from job resignees that they've decided to leave their positions because they feel ignored, underappreciated, overworked, underpaid, unhappy and generally stressed out.
Executives, on the other hand, feel pretty good about their jobs. The Future Forum Pulse survey shows that for executives, overall job satisfaction is 62% higher than non-executives. This percentage is driven by much higher scores on flexibility (+51%), a sense of belonging (+52%), work-life balance (+78%) and feeling good about work-related stress and anxiety (+114%).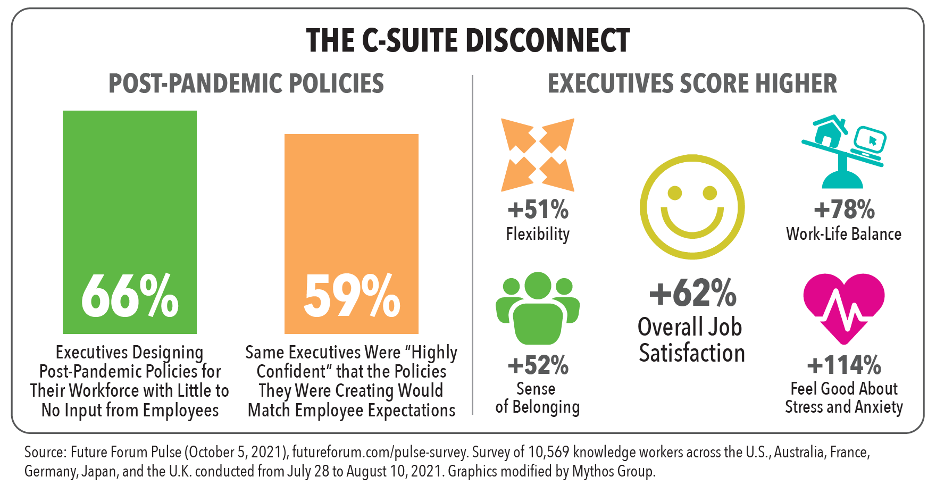 If executives continue to exclude rank-and-file workers from the conversation, this divide will likely keep growing. Employees will continue to quit and new hires won't stay long. If, however, organizational leaders do begin to pay attention to what employees want, then the policies are much more likely to have a positive impact on their business's work culture and their workers' job satisfaction.
So, what do employees want? While each individual has their own set of unique circumstances,
the collective demands and desires of workers fall into a few broad categories, all of which stem from the changes that the global pandemic engendered in the ways that employees view their lives and their livelihoods.
Flexibility
At the top of the employee wish list is flexibility. Employees want the flexibility to work when they want and where they want. As we discussed in the previous blog post, a majority of people were driven out of the office by the pandemic. After performing their jobs remotely for 20 months now, they've realized that they never really needed to be at the office in the first place, and they've decided that they simply don't want to go back.
According to the Future Forum Pulse survey, remote workers feel 2 times better about their work-life balance and 2.4 times better about their work-related stress levels after working from home. This is especially true for working mothers, people of color and other marginalized employees.
In a CBS Moneywatch report, black employees said they felt more comfortable working from home because they didn't have to worry about microaggressions or being a minority in the office. In some circumstances, they felt that their standing at their job had improved because working remotely forced their managers to focus solely on their performance.
A poll by Morning Consult on behalf of Bloomberg News reported that out of 1,000 U.S. adults surveyed, 39% would consider leaving their jobs if they weren't allowed flexibility when it comes to remote work. Among younger workers (Millennials and Gen Z), that percentage rose to 49%.
Also referenced in the Bloomberg report, an index of 10 metro areas, aggregated by Kastle Systems, shows that only 28% of U.S. office workers were back in the office as of May. That means that an overwhelming majority of employees are still working offsite. If employers continue to mandate their remote workers' return, we're likely to see the rates of resignations continue to stay high or possibly rise even higher.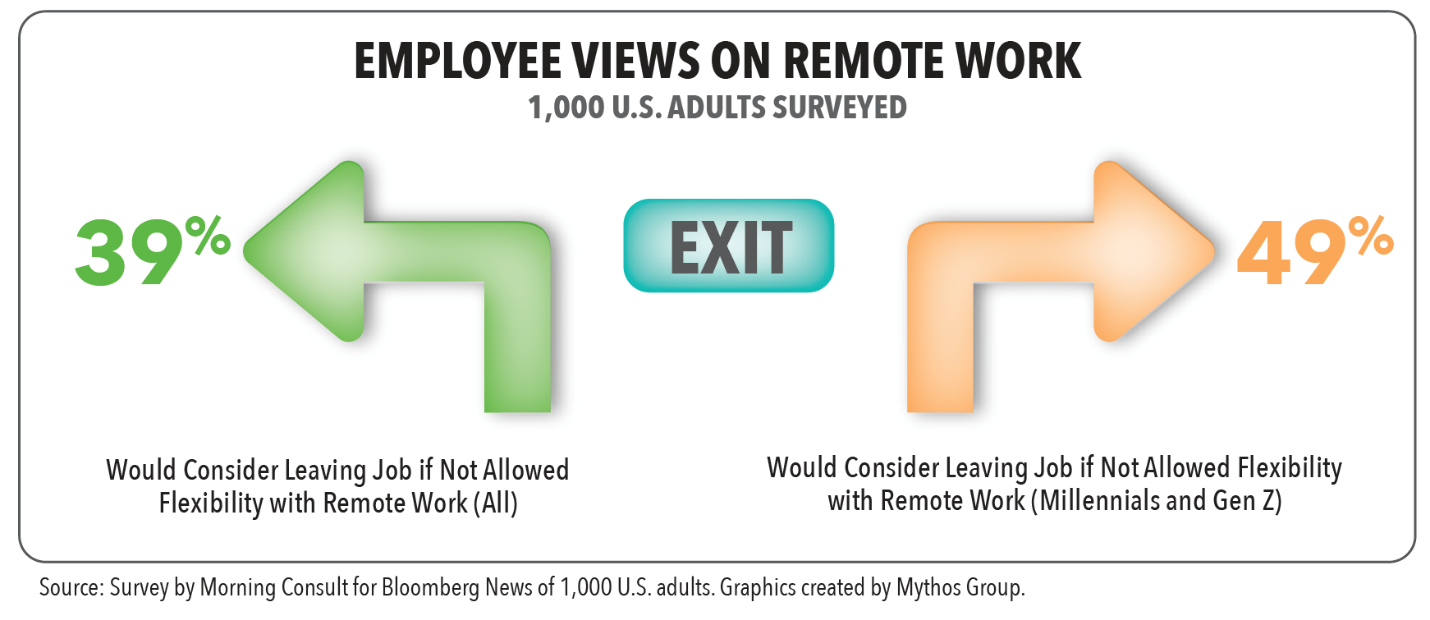 Avoiding Burnout
Workers in all industries are reporting elevated levels of stress and burnout as a result of the pandemic. While preventing burnout in some industries is harder than in others, there are some concrete solutions that can combat the physical, mental and emotional exhaustion that many workers are feeling.
In their 2021 Global Culture Report, the O.C. Tanner Institute defines a "thriving" workplace culture as one that possesses six essential elements: purpose, opportunity, success, appreciation, well-being and leadership. The report goes on to show that employees who were members of "non-thriving" workplace cultures were 81% more likely to experience pandemic-related burnout. Employees in "thriving" workplace cultures were only 13% more likely to experience pandemic-related burnout.
The bottom line is that employees who like their jobs are better equipped and more willing to handle workplace stress. In the past, ping pong tables and pizza parties may have been enough to keep workers happy, but they're no longer adequate.
Because of Covid-19, employees are looking for their employers to bring them benefits with a bit more substance. They want policies in place that will actually improve the physical, mental and emotional health of themselves and their families.
Employees polled for O.C. Tanner's report mentioned above, noted that the top reasons they chose to stay with their current employer during the pandemic were flexible work options, competitive compensation, leadership support and career development. But that's not all. Increasingly workers are demanding intangible benefits such as meaningfulness, validation, a higher purpose, greater work-life balance and enhanced well-being.
The Search For Meaningfulness
A report by the Brookings Institution found that people who found purpose and meaningfulness in their jobs were more likely to seek out training that would improve their skills, more likely to delay their retirement, more likely to work harder at their jobs and less likely to call in sick.
For most people, work has always been more than just a paycheck. Gainful employment gives a person self-confidence and a sense of purpose. Covid-19 has put a greater spotlight and a renewed emphasis on the latter, and companies would do well to figure out how to provide this benefit as part of their value proposition.
While jobs in healthcare, the non-profit sector, and education have traditionally attracted those who were looking for careers with purpose, it's entirely possible to find meaningfulness in any job in any industry. Companies can provide purposefulness to their workforce by adjusting or creating a new mission statement, donating parts of sales or profit to a worthy cause, or simply offering a deeper sense of meaning internally by making sure workers feel valued, validated and valuable.
According to the Brookings Institution analysis, autonomy (feeling like you have control over what you do), relatedness (caring about your co-workers and feeling they care about you), and competence (having the skills necessary to do your job) are the most important aspects of a meaningful work experience. The research shows that these three factors are close to 5 times more important than compensation, benefits, career advancement, job insecurity, and working hours when it comes to finding meaning in your occupation.
Set a Good Example
As a final note, it isn't enough to just put new policies into place. Leadership must actively model the changes for their workforce. Workers know when their bosses are simply paying lip service to their employees. For instance, if you've implemented a policy that workers no longer need to be on call 24/7, yet your managers are still messaging their team members on nights and weekends, then the policy means nothing. This can cause more dissatisfaction and distrust than if the policy was never implemented in the first place.
A recent Forbes article on the subject explains that it's not enough to implement policies aimed at preventing burnout. Leadership needs to exemplify healthy behaviors in the workplace. If employees see their managers doing things that are antithetical to good mental health and well-being, they will likely behave the same way or protest those expectations by finding another job.
In Conclusion
If your organization is in the midst of creating new policies for your workers, and you haven't consulted with them, you may want to hit the pause button. Being open to employee feedback is the first and most important step toward a fully staffed and fully functioning company in post-pandemic times. Keep an open mind and provide a safe space for employees to share, even if they're on their way out the door.
We cannot go back to "the before times" no matter how much we wish we could. However, businesses have a gloriously blank slate when it comes to the future. The organizational changes made while the pandemic is still ongoing can give a company a huge head start and a significant advantage in the labor market going forward.