The COVID-19 pandemic brought with it many things — sickness, disease, financial loss, anxiety, fear — and it completely transformed life as we once knew it. Although the pandemic has impacted virtually every industry, it hit one particularly hard. According to the World Tourism Organization, "global tourism suffered its worst year on record in 2020, with international arrivals dropping by 74%."
This pandemic-related travel shock cost the tourism industry a 1.3 trillion dollar loss in export revenues. The travel industry consists largely of airlines, cruise ships and tourism destinations, and not one of these sectors was left unaffected by the novel coronavirus. With the pandemic still ongoing, it has become obvious that these industries must learn how to adapt. 
As I write this article, the laws and regulations surrounding masking and other precautions are changing rapidly. Many governors have announced their intention to relax masking mandates. The federal transportation mask mandate in the U.S. is still extended through March 18, 2022, but the situation on the ground is very fluid. 
Taking all of this uncertainty into account, let's take a closer look at how these three travel sectors might move forward in the face of this pandemic and other similar disruptions that are possible in the future.
The Airline Industry
Pre-pandemic, the airline industry was experiencing consistent growth in world passenger traffic. However, when the COVID-19 pandemic struck, airlines saw an overall reduction of 2,703 million passengers (-60%). [See chart below.]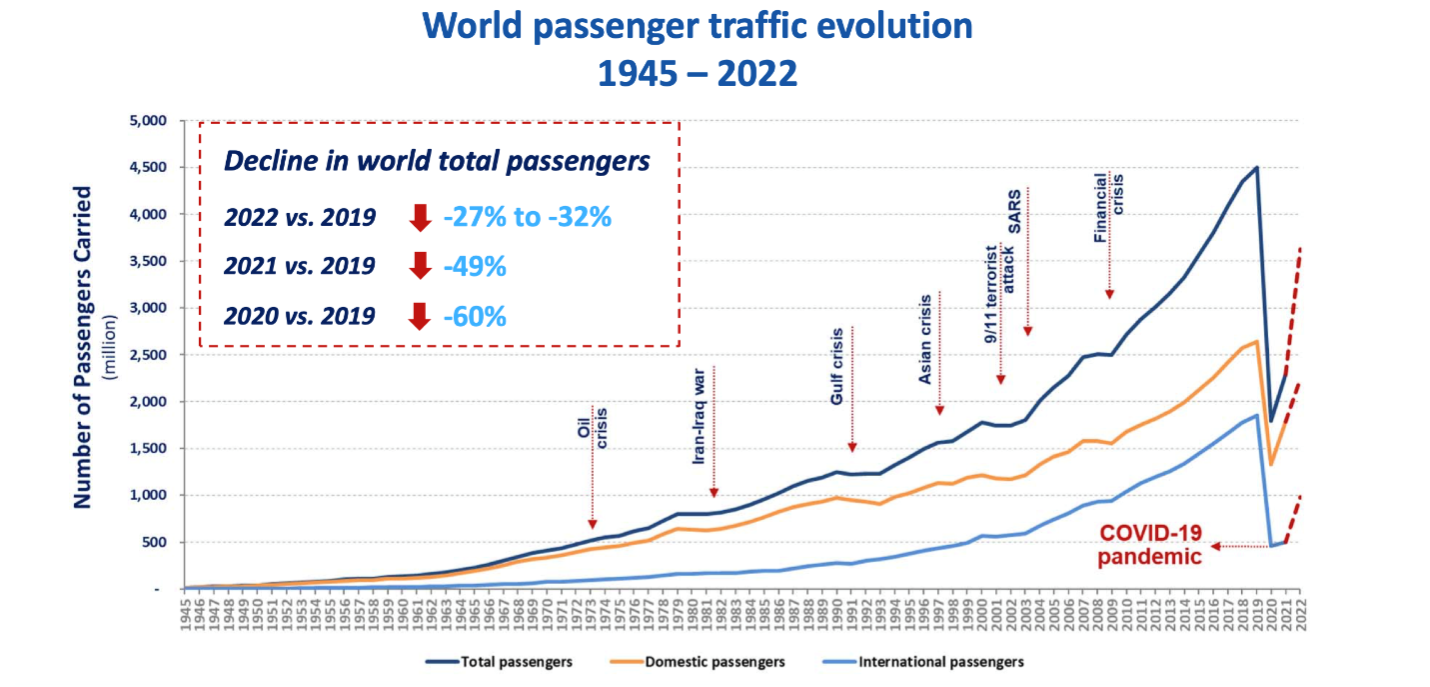 Source: ICAO Air Transport Reporting Form A and A‐S plus ICAO estimates. 
Due to social distancing requirements, airlines were unable to sell 50% of their seats. This, combined with the organic loss of passengers, resulted in a 372 billion-dollar loss of operating revenues for airlines, dwarfing the hits the industry took in 2001 after the 9/11 terrorist attacks and in 2008 during the global financial crisis. When the Harvard Business Review interviewed airline experts, they all agreed that the COVID-19 pandemic was "the biggest crisis the aviation industry has ever faced." 
Emergency Masking
As part of an emergency response, airlines began elevating their hygiene and safety standards, and many turned to digitization to streamline the travel experience. Major U.S. airlines, including JetBlue, American, Delta and Southwest, issued a mask mandate that required air travelers to wear masks inside airports and on airplanes to reduce the spread of COVID-19. 
Both the CEOs of Southwest Airlines and American Airlines claimed that masks on airlines served no purpose, considering the airplanes' advanced filtration systems sufficiently reduced the risk of COVID-19 transmission. However, Linsey Marr, an aerosol scientist at Virginia Tech, said that although "HEPA filtration systems are highly effective at reducing the transmission of viruses, they do not completely eliminate risk aboard flights."
Marr goes on to say that it takes a few minutes for the air to completely pass through the filtration system. As a result, there is the potential for a person to inhale a virus that is released by someone sitting beside them before it has had the chance to pass through the filtration system. 
Masks, therefore, serve as an extra level of protection, and in August, the TSA extended the mask mandate through 2022. It is yet to be seen how many travelers will continue to wear their masks onboard past this date, but I suspect for some, this change will become permanent. 
Business Or Pleasure?
Pre-pandemic, business travel comprised a significant portion of airline travel. However, with the rise of remote work and other flexible working arrangements, the need for business travel has decreased. Bloomberg surveyed 45 large global companies and found that 84% of them planned to spend less on business travel post-pandemic. 
While the decrease in business travel will save companies of all sizes significant costs, it's a huge blow for airlines. Before COVID-19, business travelers who bought premium-class or expensive refundable tickets accounted for three-quarters of their pre-pandemic profits, while only taking up 12% of their seats. Even though airline CEOs have stated their beliefs that corporate travel will come back, it still remains a huge drag on the industry as we enter into 2022.
As air travel demand receded, many airlines parked or retired a substantial portion of their fleet to cut costs and reduce the need for aircraft maintenance. Delta alone stored over 550 planes during 2020. At least 70 airlines around the world did the same. According to , "It costs a lot to keep [planes] in storage. … But on the ground, they are not costing $4,000 to $6,000 per hour [like when they are flying]."
The Future Of Flying
Given these ongoing, industry-wide disruptions, what can airlines do to position themselves for a recovery in the future? 
The good news is that there is a huge pent-up demand for travel. According to Google, searches for travel in May of 2021 were up 270% from May 2020. We know things may never go back to the way they were, but there is the possibility that transitioning into a new normal could be better in many ways. 
To cope with such drastic changes, airlines should reconsider several key areas: 
Can the airline operate profitably with current cabin layouts? 

Is the current fleet equipped to handle more leisure travel? 

How can the airline attract (and better serve) more leisure customers?

Are there any changes it can make to its loyalty program to reward leisure travel?

How should fleet costs be adjusted for the future?

How can air carriers improve their ability to handle disruption and/or unprecedented circumstances? 

What types of aircraft should it recommission and when?
This is where conversations in the airline industry should start. To survive these drastically changing circumstances, airlines should consider how they can adapt and pivot quickly in order to act on new market opportunities. When the general public feels safe flying again, airlines are likely to face unprecedented demand.  
Cruise Ships
Do you remember the Diamond Princess? The infamous British cruise ship that made history for being the first to have a major COVID-19 outbreak? If you've forgotten, it's understandable. After the Diamond Princess, a seemingly endless string of cruise ships has faced outbreaks. In December of 2021, the CDC identified 89 cruise ships with COVID-19 cases. This included ships operated by Carnival, Royal Caribbean, Norwegian and Disney. No major cruise line has remained unscathed. 
The cruise industry enjoyed record growth in the decade before COVID-19. According to Cruise Lines International Association, 32 million passengers were set to sail on cruise ships in 2020. Worldwide, the cruise industry generated $150 billion in revenue, and it provided 1.77 million jobs. And contrary to what many assume, the cruise industry had among the highest-paying salaries in the travel industry. With COVID-19, everything changed.
The Virus Sets Sail
As the coronavirus pandemic progressed, cruise ships became epicenters for outbreaks. Operating as isolated ecosystems, if one passenger became infected, it was almost inevitable that other passengers and crew would get infected, too. 
With the pandemic escalating on land, ship after ship was turned away from ports as the number of COVID-19 cases onboard and off grew. Eventually, the CDC issued a "No Sail Order" for cruise ships to prevent the transmission of COVID-19, and ships were either docked or decommissioned and sold for parts. According to Statista, the cruise industry's revenue declined by $12 billion in 2020. 
Repeated Warnings
After fifteen long months of hibernation, cruise lines began sailing again. To avoid a repeat of spring 2020, many ships required COVID-19 vaccines for crews and passengers, trusting that vaccines offered strong protection against severe illness and death, especially with the Omicron variant. Many cruise lines also required their passengers to wear masks (regardless of vaccination status) and test negative before boarding. 
However, even with such stringent precautions in place, cruise passengers were still testing positive whilst on board. In fact, USA Today reported there were more than 5,000 COVID-19 cases in two weeks on cruise ships amidst the Omicron surge. Those who tested positive while already on board were required to isolate, but the CDC still felt the need to act.
The rising cases prompted the CDC to issue a Level 4 Travel Health Notice for cruise ships. Their official statement said, "The chance of getting COVID-19 on cruise ships is high because the virus spreads easily between people in close quarters aboard ships. People should avoid traveling on cruise ships, including river cruises, worldwide, regardless of vaccination status." 
Cruising Into The Future
How should cruise lines respond to such obstacles? Generally, we predict that smaller-sized ships will gain popularity, as well as cruises that are shorter in length. But regardless, we recommend that all cruise lines start rethinking their traditional business models and procedures if they haven't already.  
This can include solutions like: 
Designating certain cabins for "isolation use only."

Enhancing onboard medical facilities. 

Improving ventilation.

Deep-cleaning with hospital-grade technology.

Creating more outdoor spaces for dining and entertainment.

Limiting the number of passengers.

Eliminating or modifying shore excursions. 

Vigilant wastewater testing.
Experts agree that it's unlikely that COVID-19 will ever reach a point of complete elimination from cruise ships. Just like influenza and norovirus, the coronavirus is bound to surface on cruising ships every now and then. Therefore, cruise lines must continue adapting and evolving, and they should be prepared to handle future cases of COVID-19 as part of an integrated and comprehensive virus-management approach. 
Tourism Destinations
Globally, travel and tourism contribute significantly to job creation as well as socioeconomic and cultural development worldwide. However, this industry is also one of the most susceptible to the effects of a global disruption like the coronavirus pandemic. 
When the COVID-19 outbreak struck, Science Direct reported a $2.86 trillion revenue loss for the tourism industry. This equates to about a 50% loss. In the first five months of 2020, Science Direct reported a 56% decline in arrivals of global tourists (300 million), compared to data from 2019. By the end of 2020, the World Bank reported that there were one billion fewer international arrivals than in 2019, which in turn, put 100 to 120 million tourism jobs at risk. 
A Global Problem
According to Science Direct, Asia and the Pacific region were the first to suffer, followed closely by Europe, the Middle Eastern countries, Africa and the Americas. [See chart below.]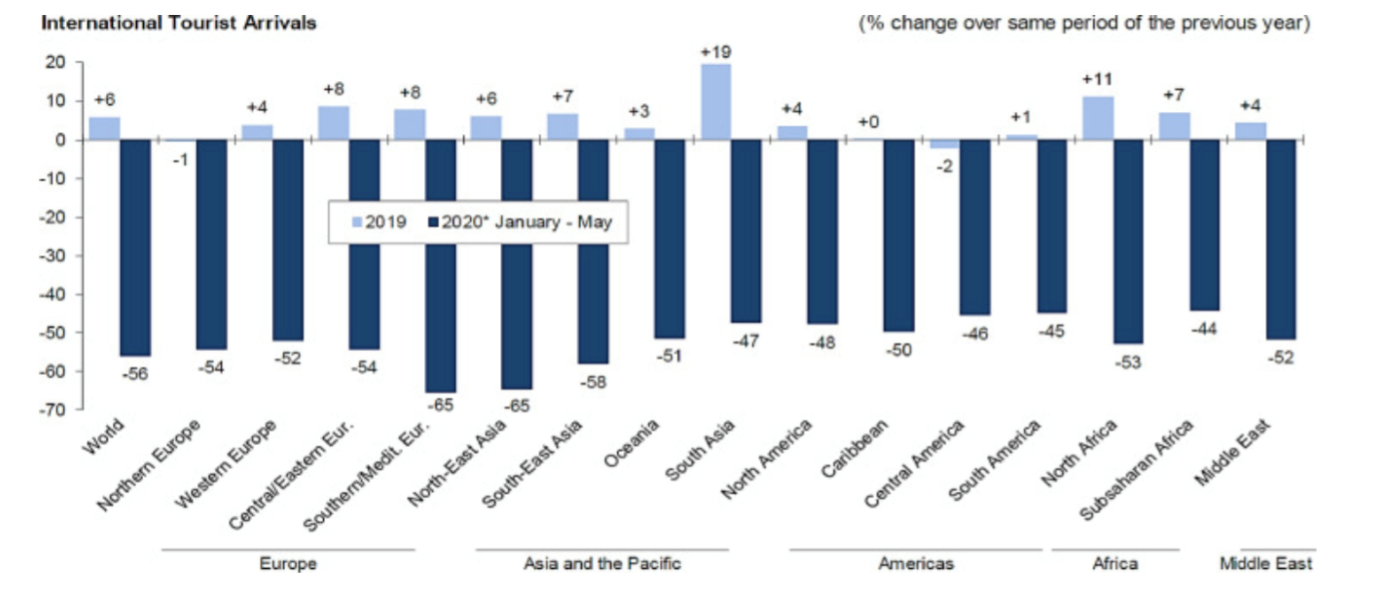 Source: World Tourism Organization (UNWTO).
In response to the rapid outbreaks, many tourist destinations were forced to close their borders. This not only affected travelers, but it also affected locals. According to the Pew Research Center, "more than nine in ten people worldwide live in countries with travel restrictions amid COVID-19." 
Bouncing Back
So, how do tourism destinations recover from something like that? How did the travel industry cope in the short term and what can they do to shore up their operations in the long term?
For many popular tourism destinations, it was essentially a waiting game. After a few months, vaccines became widely available, and travel restrictions began to ease. Leisure travelers gained confidence, and international travel slowly began to resume. According to the World Tourism Organization, international tourism experienced a 4% increase in 2021, though the numbers were still far below pre-pandemic levels (72% lower than in 2019). 
With the COVID-19 pandemic lingering, we can expect the pace of recovery for tourism destinations to be slow. However, there are still a few measures that tourist destinations can take to offset the cost of the pandemic now and to prepare for similar disruptions in the future. Some suggested OECD policy responses include:
Try to restore traveler confidence. 

Promote domestic tourism and support a safe return of international tourism. 

Provide travelers with clear information (limit as much uncertainty as possible).

Continue to evolve responses in concordance with new pandemic-related information and guidelines. 

Strengthen cooperation between countries. 

Build a more resilient, sustainable tourism. 
As destructive as it was (and continues to be), the COVID-19 pandemic gives the travel and tourism industry a chance to rethink its future. It has given us a roadmap to follow in worst-case scenarios. With the lessons COVID-19 has taught us, we can reshape whole industries like travel and tourism so that they might be more resilient in the face of an uncertain future.
If masking mandates continue to be relaxed and we do not experience another coronavirus surge or variant, the travel industry is poised for a full comeback and possibly a historic boom. Everyone who has put off traveling in the last two years will rush to the nearest airport gate to take that trip they've been dreaming of. If travel-related organizations can prepare accordingly, they may be in a position to reap the benefits for many years to come.
If your organization needs help to develop a dynamic strategy to promote growth in the wake of the ongoing COVID-19 pandemic, please visit Mythos Group online. Our transformation experts can help you navigate a post-pandemic future no matter how much the coronavirus has affected your industry. By scratching beneath the surface to identify driving forces and outstanding opportunities, we can help clients solve their most complex challenges. Contact our team today.