Is your business struggling to effectively utilize social media? If so, you're not alone. The coronavirus pandemic has taught us several valuable lessons, and one of the most important lessons learned has been the need for effective communication. With supply chain shortages, longer shipping times, pandemic regulations and social unrest, the need to communicate with customers, stakeholders and the community at large is greater than ever. As a result, many businesses have changed their social media marketing strategy to more of a social media messaging strategy. Let me explain…
Social Media Is Media
In the modern-day business world, social media has become the main means of mass communication. According to Statista, only 86.2% of companies utilized social media marketing in 2013. In 2021 that number had gone up to 91.9% and in 2022, it's projected to go up to 92.1%. Increasingly, we see that social media is a necessary tool that the majority of businesses must use to develop their brand's voice, engage with customers and disseminate important information. 
Not only did the number of companies using social media increase last year, but the number of people on social media increased as well. In 2021, 4.48 billion people were actively using social media in the world. That's an increase of 13.13% from the previous year. This increase is partially due to pandemic-related lockdowns. With people stuck at home, social media became the primary source of information and socializing.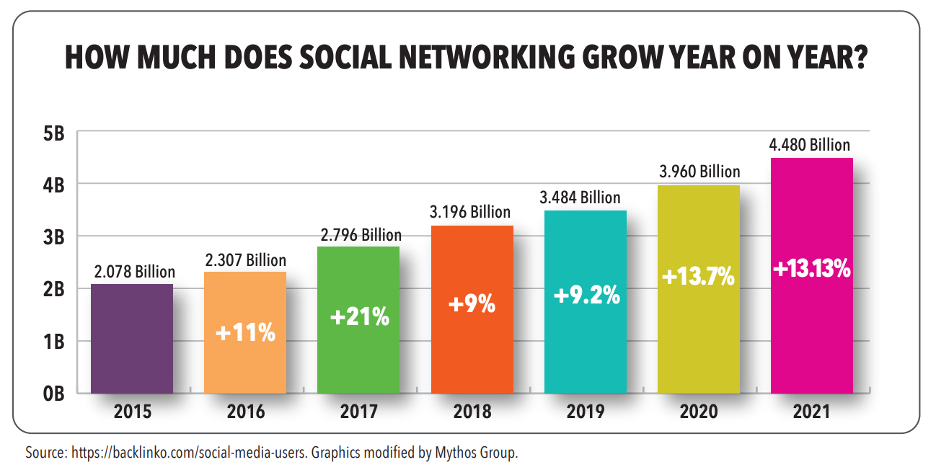 But, has the COVID-19 pandemic changed the way businesses use social media? The answer is absolutely! According to a study conducted by Digital Commerce 360, 86% of respondents reported that they had noticed a shift in the content appearing on social media. According to the same study, 49% of respondents reported to have changed their posting behavior due to current events. 
Companies have found themselves in a delicate balancing act. They need to market their products to a growing audience without appearing tone deaf to the pain and suffering that's happening in the world. In addition, they have less money and smaller marketing budgets than ever before. 
What does this mean for social media marketers? At the end of the day, businesses still need to increase their brand awareness, their customer loyalty and most importantly, their sales, and they need to do it in the most cost-effective way possible. However, that looks different today than it has in the past. Here are the valuable social media marketing and communication lessons we've learned during the past 20+ months. 
The Pandemic Sparked Greater Reliance On Organic Social Media Content
Marketing during a pandemic posed obvious financial challenges for many businesses. As a result, many businesses began turning to organic material – otherwise referred to as user-generated content (UGC) – for their social media marketing. With UGC, users are the ones that create and post the content, and then they tag the brands in their posts. 
With the rampant spread of misinformation, consumers have grown distrustful of mainstream media. To alleviate this stigma, businesses can use UGC as a way to establish credibility. A study revealed that 79% of people state that UGC highly impacts their purchasing decisions, and marketing experts believe this will remain consistent in a post-pandemic world. 
According to a 2021 springboard article, one of the most useful ways to find UGC is simply to search for it. You can search by location, hashtag or keyword. Another good idea is to determine where you're engaging most with your customers and then provide them with a clear and compelling call to action (CTA) to use your hashtags.  The more fun and user-focused a hashtag is, the more likely it is that people will tag their content with it.
Social Media Users Now Crave Entertainment 
With the world in chaos, many people have turned to social media as a form of escape. People continue to search for fun, interesting content that distracts them from pandemic-related stresses. The rise of TikTok, a social media platform that is fueled by short, creative videos, is the perfect example of entertainment-focused social media. 
Many businesses have noticed this surge in light, playful content and have begun to take advantage of it. Whether it's creating TikTok videos to display their products, mimicking the current trends, or using witty banter, businesses have begun shifting away from purely informative social media content to that which entertains their audience. After all, consumers are much more likely to absorb your company's messaging if it's entertaining.
Red Bull, Dunkin' (formerly Dunkin' Donuts) and E.L.F. have all had great success with their marketing on TikTok. These companies have managed to provide authentic, entertaining and often humorous content that has no doubt boosted their bottom lines as well as introduced their products and endeared their brands to a new generation of customers.
Businesses Focus On Communication Instead Of Sales
As the need for communication increased during the pandemic, many businesses transitioned their social media content away from strictly selling products and moved toward engaging their audiences in conversation. Social media platforms became fertile grounds for engaging directly between brands and their consumers. Not only was social media a place for businesses to send out updates, but consumers were able to ask specific questions and receive timely answers. 
With this shift, a new standard of open communication has been set. In the future, people will continue to expect this open line of communication to remain. Therefore, businesses should create a variety of social media posts that include sales, industry updates and internal updates in addition to advertising, marketing and user-generated content. 
An article on Social Media Today's website says it best, "The first thing to keep in mind is what's actually needed right now. What do people really need to know, what are they looking for, and what's helpful to them as they seek to understand the changing environment?" For example, on March 16th at the very start of the COVID-19 lockdowns, Chipotle tweeted out the simple message below. It was timely, empathetic and gave isolated users exactly what they needed at that moment in time.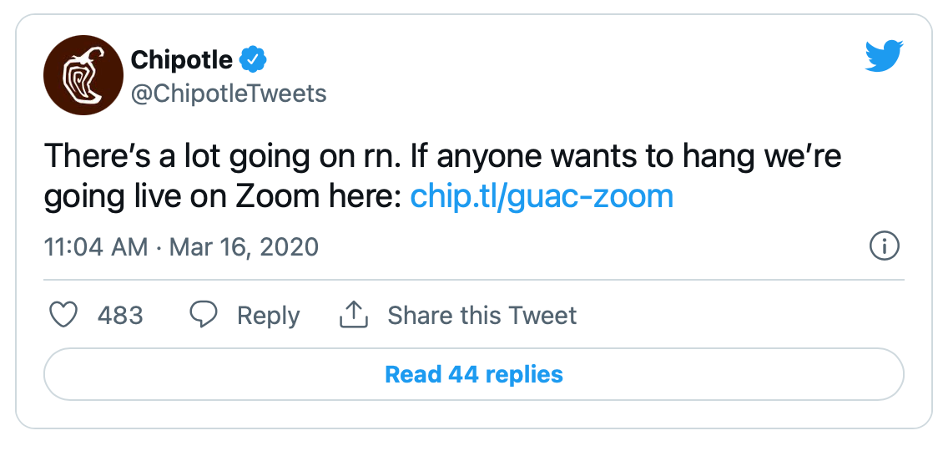 How Businesses Should Use Social Media
A study conducted by Digital Commerce 360 states that, "82% of respondents indicated that social media is the most common channel from which they get information about a brand and its products." According to the same study, 66% of respondents agreed that social media plays a critical role in their decision to consider and purchase from a brand. 
There's no denying the outsized role that social media plays in a brand's success. That being said, here are some ideas about how companies can best utilize social media and navigate the changing trends. 
Try new platforms.

Pre-pandemic, LinkedIn was considered the leading B2B and business networking social media platform. However, according to a March 2020 study conducted by

Statista

, "43.1% of respondents stated that if confined to their homes during the coronavirus, they would use Instagram more during that period." Facebook alone has

over 2.7 billion monthly users

, making it an essential channel for marketing. If your brand isn't already active on other platforms that might be relevant, such as Facebook, Twitter, Instagram, YouTube, Pinterest, Snapchat, Clubhouse and TikTok, then you should focus on building that presence.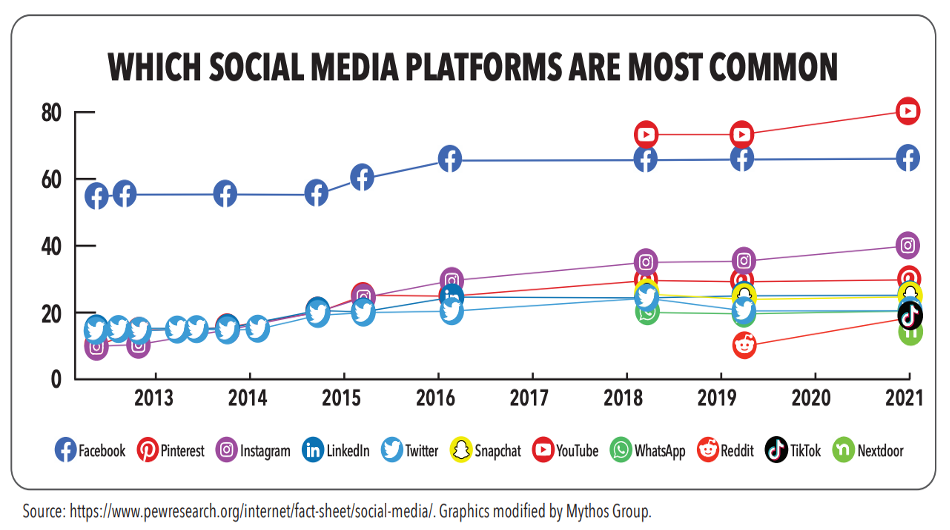 Be authentic.

Users can sniff out an insincere post from a mile away. They are also weary and wary of misinformation and companies trying to exploit opportunities amidst hard times. More than ever, brands need to be authentic in their social media content. You can achieve this by engaging in open conversations with your audience. Honesty is by far the best policy here. A focus on social content meant to communicate with stakeholders and not merely to inspire sales is the best course of action. 

Use analytics.

Using analytics as a way of assessing the effectiveness of your social media content is an essential part of any successful social media strategy. Analytics tools like

Sprout Social

,

HubSpot

and

Google Analytics

can get you started. By constantly keeping tabs on your metrics and analyzing your social media engagement, analytics tools are an invaluable way to learn what types of content your audience is liking and responding positively to or ignoring altogether. 

Get creative.

Brainstorm social media content ideas that will entertain and engage your audience. A social media strategy focused on force-feeding information or advertising is bound to fail. Research the kind of content your audience enjoys and then create content that mimics those ideas. Or even better, find something new and unique that no one's ever done before. Whether it's creating new video content, participating in trends or using witty copy, now is the time to jump off the screen in a way that forces people to stop scrolling and pay attention. 
Final Thoughts
Social media use is on the rise with consumers, and businesses need to use a variety of social media platforms to effectively communicate with their audiences. Instead of merely encouraging sales, social media content should now inform, entertain and facilitate meaningful and authentic conversations with their customers. 
The COVID-19 crisis has made clear that businesses can no longer operate without a strong digital presence. If your organization is facing challenges to implement an effective social media messaging strategy, contact us. At Mythos Group, our strategic transformation experts can help your company craft an online presence that effectively communicates with your customers, increases your brand awareness and ultimately, improves your sales and revenue.